5Kg Coffee Roaster
Product information
The 05kg coffee roaster with a capacity of 05kg/batch is an industrial coffee roaster. Catering to the on-site roasting needs of small and medium sized coffee shops. The machine is researched, developed and manufactured by Vu Phong Industrial Co., Ltd.
The model is designed professionally and scientifically. And has the distinctive features of the USS.

Manufacturing Process: Most of the machine parts are machined on High-Tech machines and high-precision tools. So the machine looks sharp, the rotating details move very smoothly.

Structure of coffee roasting machine 5kg
Funnel for green coffee
Smoke + dust exhaust fan
Cyclone dust separator
Coffee roasting drum
Coffee cooling island set
Roasted coffee outlet
Motor roast drum
Handle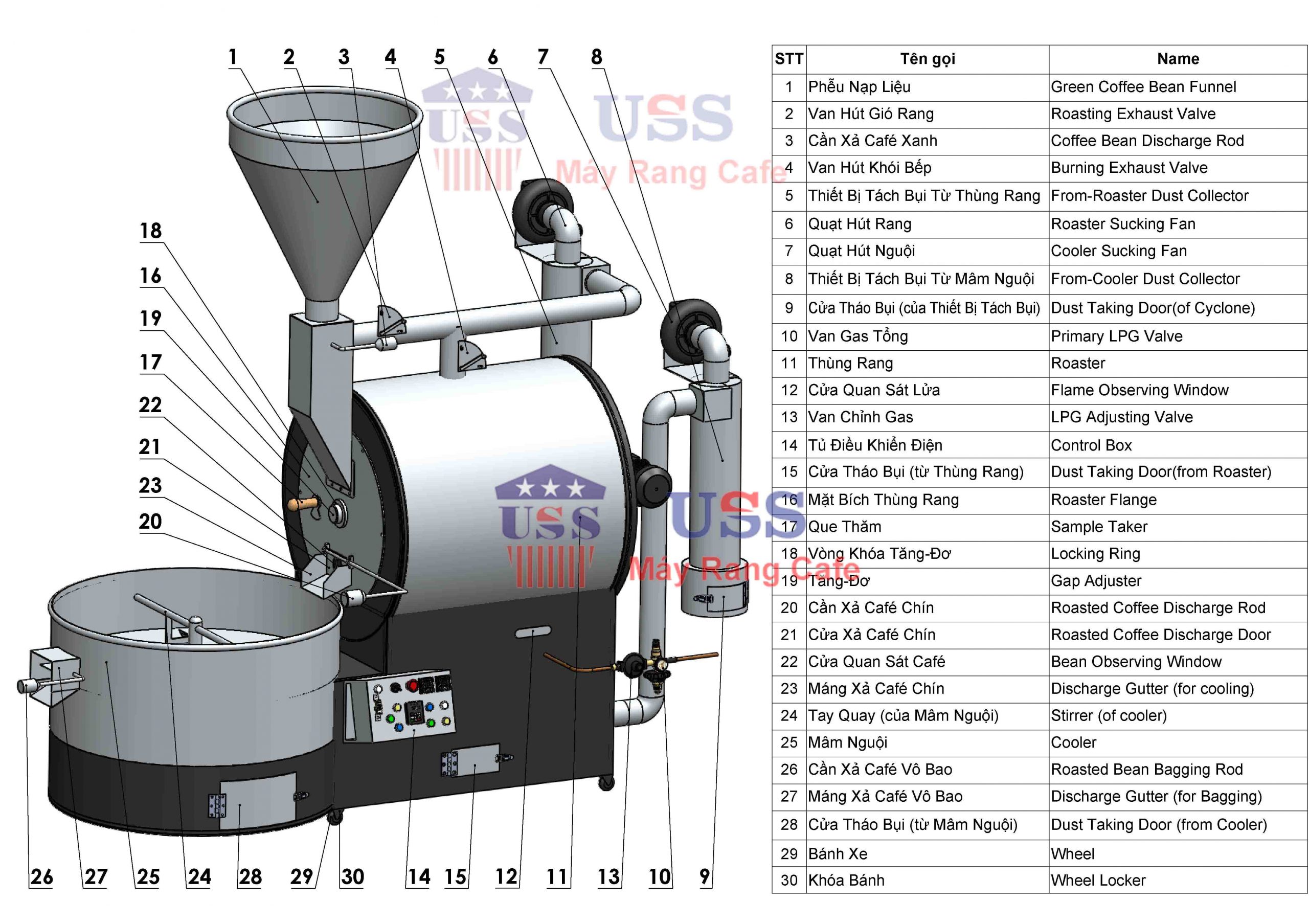 Specifications of coffee roasting machine 5kg
Funnel for green coffee:
– Material: stainless steel
– Size: round taper
Drum motor:
– Motor reducer: Imported from Japan.
– Voltage: 220V, 380V – 50Hz.
Drums:
– Special design: 1-layer or 2-layer heating.
– High heat resistant Drum material increases the life of the roasting drum.
– The design of the island system helps the coffee not to be scorched, the coffee beans are shiny.
– The roasting drum must be made of high-grade carbon steel.
Suitable thickness, has high heat resistance and does not rust or degrade when exposed to high temperature for a long time.
– The size ratio of the length and diameter of the roasting drum must also be standard. In order for the convection air flow to be created the most favorable conditions during the coffee roasting process.
Electric fan:
– Motor: 1 phase, 3 phase. Imported from Japan.
– Voltage: 220 380V- 50Hz.
– Noise level: less than 80db.
Cooling cage and cooling fan:
– Designed to cool the coffee beans after roasting
– Materials:   304 stainless steel + Cooling motor: Imported from Japan.
– Cooling fan motor: Trantechno company.
– Fast cooling time after roasting
Heat sensor:
– HANYONG, OMRON + Temperature sensor is located in the drum.
Burners:
– Burners imported from Taiwan, Italy, Europe, Korea. Durable.
– Burn the gas completely.
– The amount of impurities is no longer, the smell of gas is no longer.
– Coffee after roasting very quickly smells.
– Heating method 50% direct, 50% indirect – Save gas.
Smoke and dust extraction system:
– Balancing the factors together with the calculation of accurate parameters such as capacity, speed, air flow.. filter to remove smoke, dust, silk cover made of smoke and dust extraction system the best.
– Produces clean, smooth coffee beans with excellent taste without impurities while saving energy and ensuring minimal heat loss.
Weight: Coffee roasters need to be made of sturdy materials to ensure stability when roasting.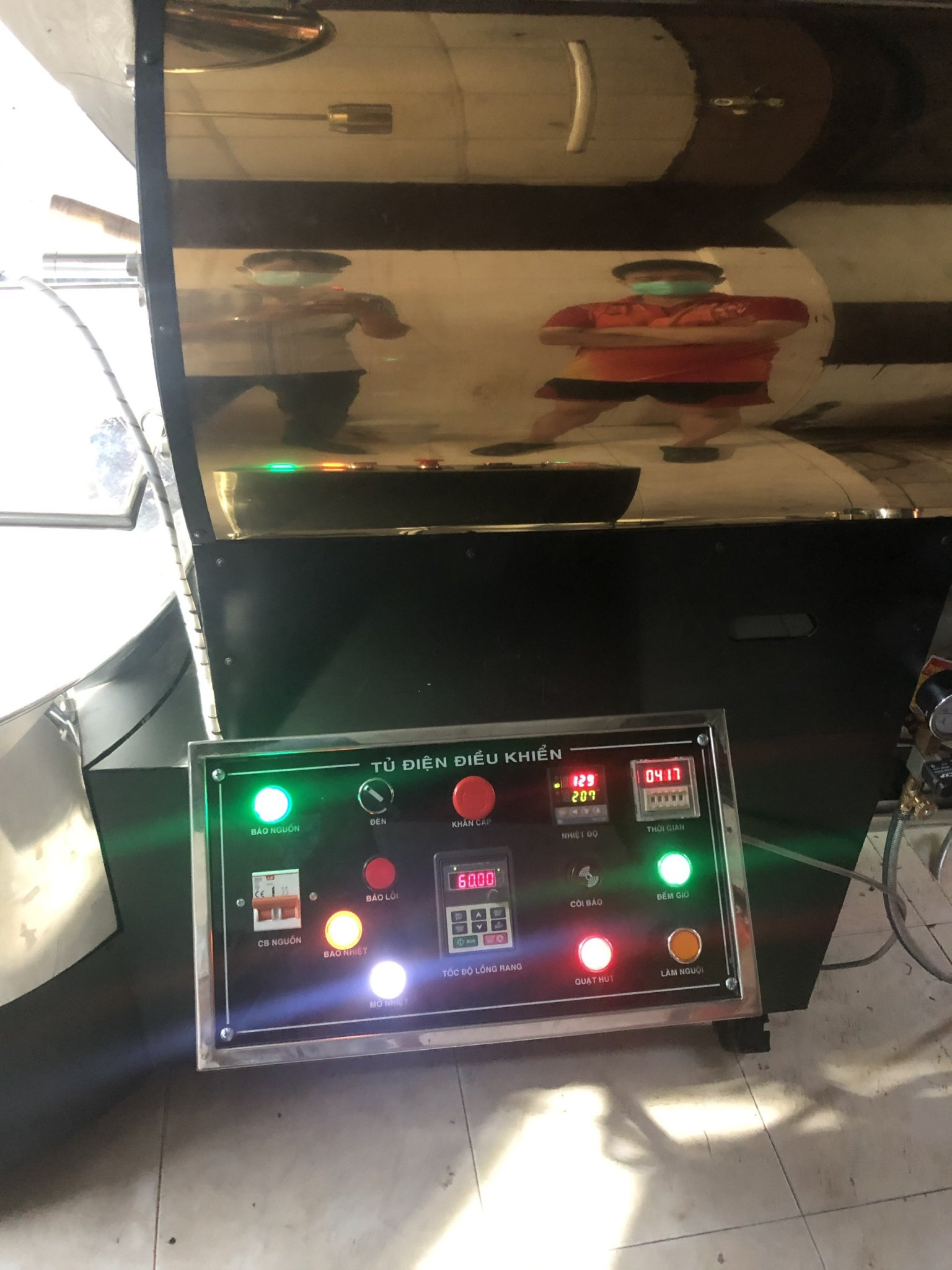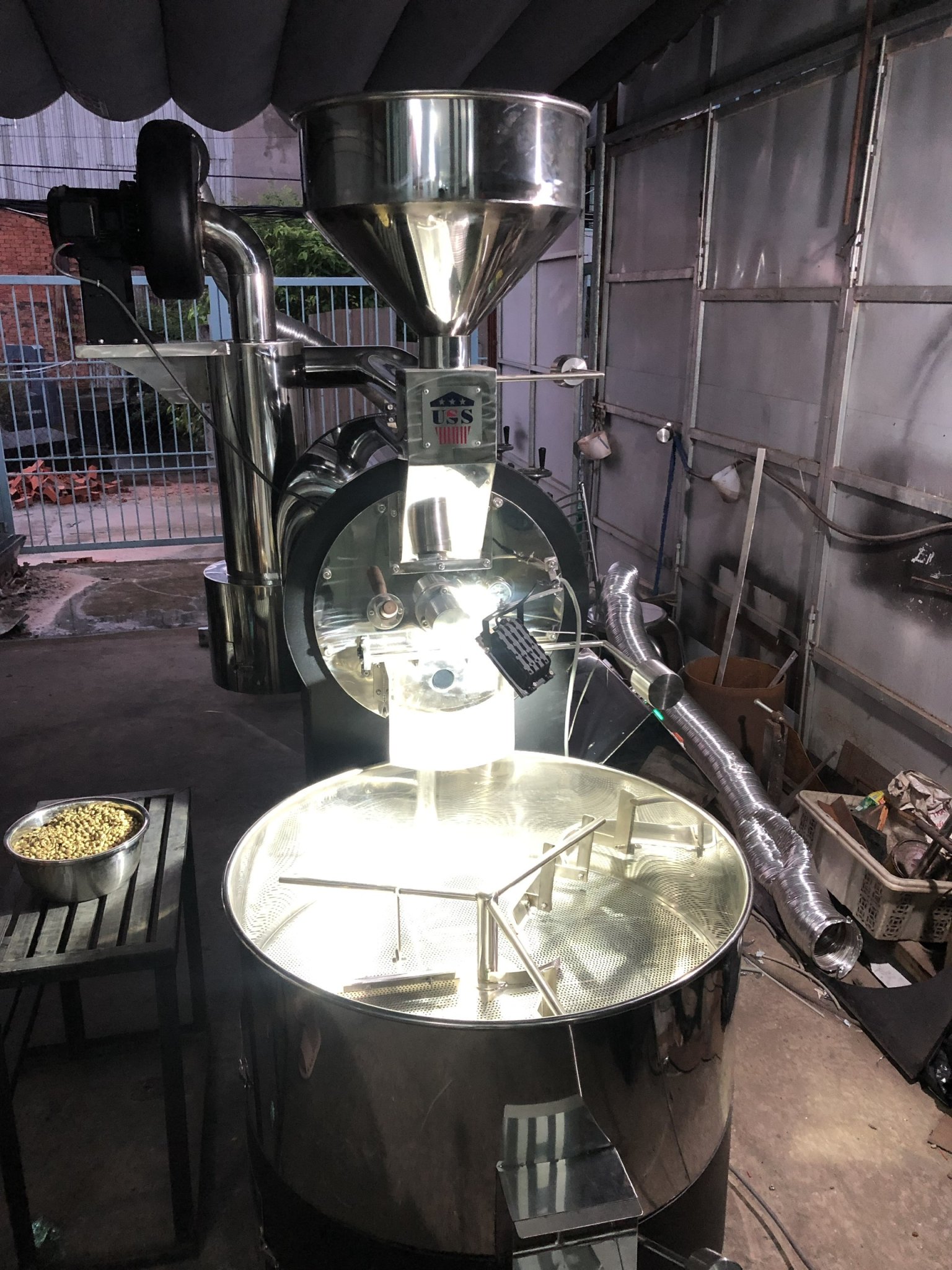 USS is a reputable coffee roaster manufacturer with more than 7 years of experience, has provided hundreds of quality coffee roasters at competitive prices for both domestic and foreign markets.
Depending on your needs, customers can choose roasting machines with capacities from 5kg, 7kg, 10kg, 20kg, 30kg, 40kg to 60kg, 120kg, …
When buying the USS industrial coffee roaster, customers will be handed over by USS technicians operating techniques, instructions for use as well as how to maintain the machine. Own the USS Coffee Roaster and seize this potential business opportunity today, customers.

 Please contact HOTLINE:
0941 𝟒𝟐𝟑 𝟐𝟎𝟎
for the most detailed advice.